Courses Offered
The following full-time Diploma courses are being offered
Diploma in Civil Engineering
Diploma in Mechanical Engineering
Diploma in Automobile Engineering
Diploma in Electrical and Electronics Engineering
Diploma in Electronics and Communication Engineering
Diploma in Computer Engineering
The College is situated on Coimbatore – Pollachi main road. The College has boast of competent faculty, spacious class rooms, fully equipped laboratories, workshops, class rooms, drawing halls and library stacked with the latest editions of books, magazines and journals.
Excellent training to students is offered by our qualified, experienced and competent staff. Besides imparting engineering knowledge, great emphasis is laid on building of character and discipline in students. Industrial training is given to the students during the vacation in view of preparing themselves to the industrial environment.
The institute has a placement cell which is functioning to facilitate the context between students and industries. Company/ Industries visit the institution for recruitment and the placement rate is on the rise year by year.
Apart from academic activities students are motivated to participate in Co-Curricular and Extra-curricular activities.
Civil Engineering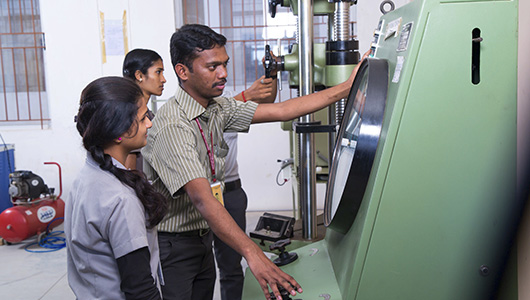 Vision
The Department of Civil Engineering strives to highly qualified engineers, maintain nationally recognized research and provide quality professional and community service to the region and the world.
Mission
The Civil Engineering Program recruits, and retain individuals with high professional and ethical standards to work in government and private organizations. The faculty is committed to increase and improve the quality of our graduates.
Educate the next generation of engineering leaders to formulate and solve complex problems of importance to society, to collaborate as productive team members, to engage in life-long learning, and to act professionally and ethically.
Extend engineering knowledge across the breadth of the discipline and beyond through creative, innovative research ranging from the fundamental to the applied.
Facilitate the understanding and use of new ideas, technologies, and practices for the betterment of society through service and leadership in local, state, national, and international communities.
Mechanical Engineering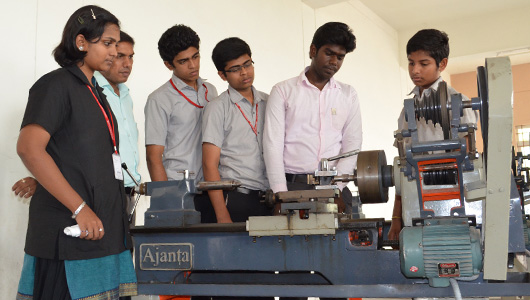 Vision
The Department of Mechanical Engineering will strive to be a CENTRE OF EXCELLENCE for teaching and training high calibre, practically oriented, self-employing enterprising graduates for public and private industries and organizations.
Mission
The mission of the Mechanical Engineering Program is to provide an excellent educational experience for its students.
Educate the next generation of leaders in the Mechanical Engineering profession.
This experience includes an emphasis on the technical, communication, teamwork and life-long learning skills that graduate engineers need to succeed, in both the workplace and society in general.
The curriculum emphasizes a rigorous treatment of the mathematical and scientific approach to the solution of engineering problems.
It provides a coherent set of courses in energy conversion and structures/motion in mechanical systems.
Create, explore, and develop innovations.
Provide beneficial service to the local, state, national, and international communities.
Automobile Engineering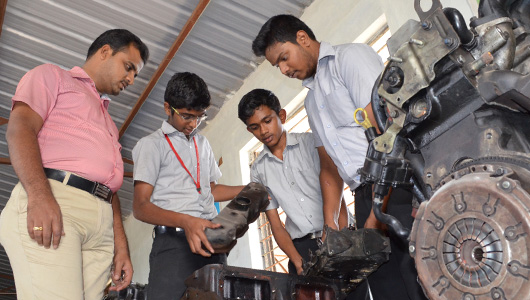 Vision
To impart knowledge to design vehicles with lesser pollution and better safety standards to meet norms. Also, providing knowledge to build hybrid vehicles and to use alternative sources of energy.
Mission
We will provide our students with educational experiences that will enable them to become leaders in their profession and society.
We will maintain and develop world-class research programs that complement our educational mission, address the evolving needs of industry and society, and contribute to economic and social development in the State of Tamil Nadu, across the nation, and around the world.
Electrical and Electronics Engineering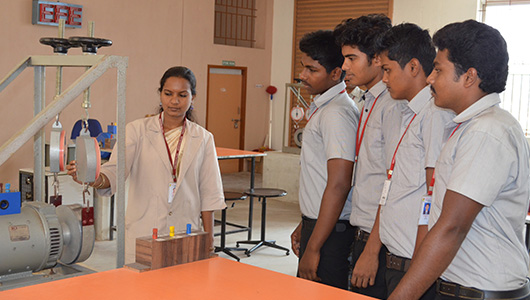 Vision
The Department of Electrical & Electronics Engineering will provide programs of the highest quality to produce world class engineers who can address challenges of the millennium.
Mission
The mision of the Electrical Engineering major is to provide students with a supportive environment that facilitates learning to solve problems in electrical engineering.
The Electrical Engineering major is committed to excellence in student learning.
Graduates of the major will be problem solvers, able to apply engineering principles to electrical and computer systems.
The faculty and staff of the major use their background in teaching, research, and industry to prepare students to be successful as they move into the workforce or Higher Education.
Dedicate itself to providing its students with the skills, knowledge and attitudes that will allow its graduates to succeed as engineers and leaders.
Prepare its graduates for life-long learning to meet intellectual, ethical and career challenges.
Electronics and Communication Engineering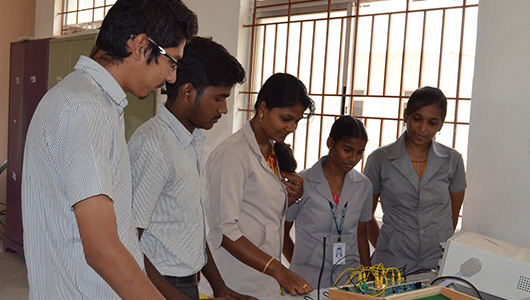 Vision
The vision of Electronics and Communication Engineering Department is To serve as a centre of excellence in teaching with a view of providing trained manpower for national development and to help improve the quality of life of the people by creating public awareness on the use of appropriate scientific and technological development.
Mission
To provide formal education in, electronic engineering and related fields through teaching, experimental work and industrial attachment to prepare students for careers as scientists, educators and engineers.
Enabling students to face the Global competition and to install high patterns of Discipline & Ethics with the help of State of the Art Infrastructure, Committed & Involved Management and Dedicated Faculty Members.
To fulfil the needs of the society in the various fields related to Electronics & Communication engineering.
An ability to design a system , component or process to meet desired needs within realistic constraints such as economic, environmental, social, political, ethical, health and safety, manufacturability and sustainability.
Department Of Computer Engineering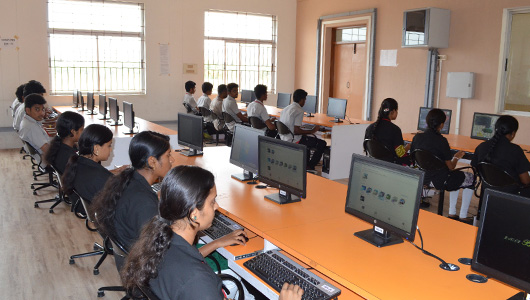 With the boom of IT and ITES industry in India, India is sure to be a power in the IT world. India offers rich talents, advanced skills, plentiful human resources. We at HPC are committed to growth that will empower every student of ours to tap this huge potential. Therefore, there is wide scope for the Diploma holders who complete the Diploma in Computer Engineering.
Career Opportunities
Software & Hardware Engineers
UPS Companies
Eligible to join Engineering Degree Courses direct in 2nd year in the relevant disciplines.